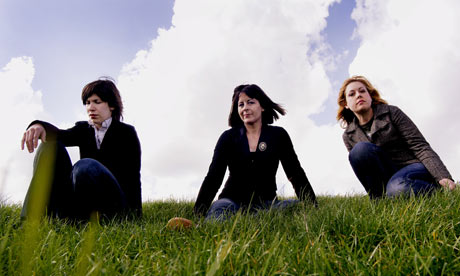 Biggest news, hot off the re-heated press release. Sleater-Kinney, my all time favourite group, may regroup in the near future.
Carrie Brownstein told
IFC:
"We spent 11 years committed to [Sleater-Kinney], heart and soul. To get back into it we have to be in that place where we can immerse ourselves fully. I think it will happen. We have to loop around, and we're at the far end of the circle, away from the band, but I think we will come back and revisit it. And hopefully that record will be sometime in the next five years."
This is just a maybe. A HUGE maybe. But nevertheless, in my mind I'm already up front, at the Sleater-Kinney gig, crying at the sheer spectacle of the moment.
For a sooner SK fix, Corin's album is due to drop later in the year on Kill Rock Stars and Carrie revealed that she has formed a new group with, drum roll, Janet Weiss.
There you go. Two big scoops of Sleater-Kinney related gossip all in one go.
Don't you feel full now.
Guardian Music: Sleater-Kinney member form new band